An unprecedented meeting between real estate and the visual arts community.From July 15 to October 15, 2021.
Art Souterrain is pleased to launch a call for applications for an artist residency at Ubisoft, in Quebec City. Don't miss the chance !
We are all, in one way or another, affected by the coronavirus pandemic. This project is based on the desire to instill hope in emerging artists through this difficult situation by promoting their works in public spaces of Montreal while allowing young people to be...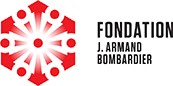 Partenaires institutionnels